7 Cheap Anonymous VPS Providers
For those of you who need the cheapest anonymous VPS providers on the Internet, we've made a list with an accurate description of what they offer. All of the VPS's listed have 1GB, which is usually the starting RAM size of any VPS package range.
When you're choosing an anonymous VPS, look at the following things:
1) Do they only ask for my email or do they require all of my personal information?
2) Can I pay with bitcoin to stay fully anonymous?
3) Can I ask for a refund if their service is not to my liking?
4) Is there any way I can contact the staff and test their proficiency in this business?
5) Where are their servers located? Where are they registered
Keep these in mind when you're looking through our cheap anonymous VPS list:

Nr. 7 – Anonymousspeech.com

Anonymousspeech specializes in offering anonymous mailing solutions. They started in 1996 in Switzerland. Aside from mail provision, Anonymousspeech also offers anonymous shared hosting, anonymous VPS, and anonymous dedicated servers.
– 20GB Disk Space
– 250GB Bandwidth
– 1GB RAM
– 1 Dedicated IP
– €89.95/month ($98.95)
Due to their popularity and 20+ years of anonymous solutions experience, Anonymousspeech is able to charge prices that are four times more expensive than other anonymous VPS's. I personally wouldn't recommend them, because you only get 20GB disk space (not SSD) and 250GB of bandwidth. This is why they are placed last in this list.
Nr. 6 – Yohost.org

YoHost began offering hosting services in 2006, but changed in 2011 to offer anonymous hosting and offshore company registration. They themselves are registered in Panama. Their anonymous hosting service consists of only VPS and dedicated servers. This is the cheapest anonymous VPS you can get from them:
– 4 Processor core / CPU 1.0Ghz
– 1GB RAM
– 20GB Disk Space
– 100Mbps connection speed
– 1TB Bandwidth
– 1 dedicated IP
– $67.00/month
It's quick notice that YoHost overprices their VPS's. This is understandable since they provide a wider offshore business solution, and are thus not specialized in anonymous hosting. You should therefore go with YoHost if you are also looking to form an offshore business. This list has more affordable anonymous solutions for those looking to just buy an anonymous VPS.
Nr. 5 – Ititch.com

Ititch began offering anonymous hosting solutions in 2013 from New Zealand. Grown to be the most popular anonymous hosting provider, Ititch's prices grew. While nothing exceptional has been said about them, they have grown to popularity due to their solid services. Here is what you can get:
– 1.47 GHz CPU
– 1GB RAM
– 40GB Disk Space
– 800GB Bandwidth
– $63.00/month
All of Ititch's servers are located in a North American data center. This should mean that they are able to have cheap access to hardware and datacenter storage, given that the most affordable hosting providers are US based. The prices, however, show otherwise. All the specs are limited while you pay the price of nearly a dedicated server.
Nr. 4 – Vindohosting.com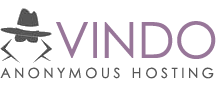 VindoHosting is an Indian-run anonymous host that is registered in Seychelles since 2009. They offer three types of anonymous solutions: anonymous web hosting, anonymous domain registration, and anonymous virtual private servers.
– CPU Speed 1 x 3.30GHz
– 1GB RAM
– 25GB Disk Storage
– 2TB Bandwidth
– €29.95/month ($32.91)
VindoHosting offers relatively decent VPS specs for a relatively decent prices. But, in my opinion, it is still slightly overpriced. Another downside is that they do not publicly display the processor(s) that are integrated in these VPS servers. They also accept credit card, paypal, and bank transfer, meaning it's possible to be traced back to you were you to pay with one of these options.
Nr. 3 – Anonymous-offshore.host

Formed In 2014, Anonymous Offshore Host is an unknown anonymous hosting provider with somewhat affordable prices. They have the widest variety of anonymous hosting solutions on this list. They provide shared, reseller, VPS, dedicated servers, anonymous mail hosting, domains, VPN, remote desktop and DNS camouflage.
– 1GB RAM
– 40GB Storage
– 2TB Data transfer
– 1 IP address
– $25.99/month
Located in the Netherlands, Anonymous Offshore Host publicly states that they ignore DMCA. They do not offer any refunds, so buy at your own risk.
Nr. 2 – Black.host
Black.Host started just in 2015 and has already gained wide popularity. This is due to their previous hosting experience before Black.Host as well as their affordable prices. They're professional, offer many anonymous services and have decent customer support. This is the cheapest anonymous VPS you can get with them:
– 2 Core
– 1GB RAM
– 16GB SSD
– 2TB traffic
– 1Gbps bandwidth
– $25.90/month
You can choose to host your VPS in either the Netherlands or Switzerland. While you get a lot of bandwidth, the limit is set to 2TB traffic. If you were to run 1Gbps, it will run out within less than a day. 2TB of traffic equals to less than 7Mbps if used constantly for a whole month. Go with Black.Host if you need a lot of bandwidth within a short amount of time.
Nr. 1 – Anonymously.io


Anonymously gained quick popularity due to their affordable prices, wide variety, and Livechat support. They offer full data privacy, which means even they do not have access to your VPS or dedicated servers. They accept only Bitcoin and encourage you to stay completely anonymously, even from them. Anonymously is very lenient in what they accept, and they are DMCA-ignore.
Their servers are located in several datacenters across the Netherlands.
– 1GB RAM Memory
– Xeon E5-2650 v2 Processor (1 core)
– 15GB SSD (RAID 10)
– 1 IP address
– Unmetered traffic
– 100Mbps bandwidth
– Full root access
– $14.99/month
As you can tell, Anonymously is the most affordable anonymous VPS provider on this list. They publicly display their processor, which is a plus. They also offer unmetered on a constant 100Mbps connection. That equals to around 32TB per month. If you wish to have your money back, they have a 30-day money back guarantee, no questions asked.
This is was a list with the cheapest anonymous VPS providers.